Hike partners with Airtel to bring 'Total' platform to budget 4G mobiles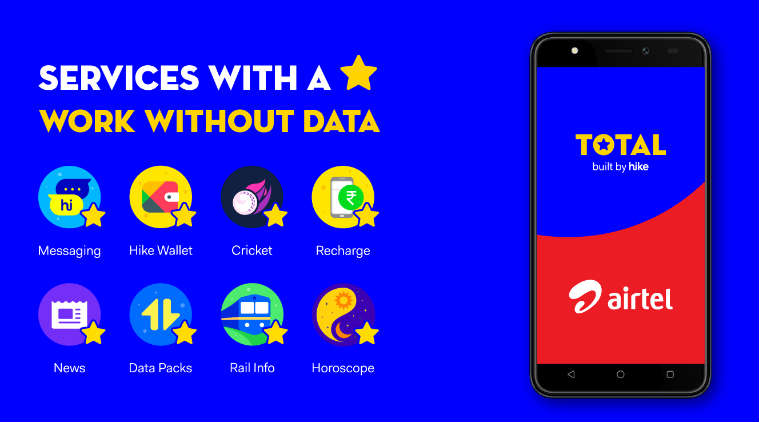 Hike has partnered with Airtel to bring its new 'Total' feature on mobiles under Airtel's 'Mera Pehla Smartphone' initiative. The service will come pre-installed on phones starting March, 2018. Total, which has been built by Hike, lets users access services such as messaging, news, astrology, cricket scores, recharge and more even without an active data connection. To get online, people can enable data packs for as low as Re 1.
Total requires a single login via the phone number for all of Total services. For instances where data is required, the platform will offer quick purchases of packets as low as 20MB for Re 1 onwards. Total takes over the setup process and pre-installs a bunch of basic apps easily and with minimum use of data. The services built on Total can be accessed even without data via Hike's proprietary technology.
"With 'Total' on 'Mera Pehla Smartphones', first-time users will find it easy understand and navigate a smartphone. Using data is also simplified and 'Total' users can get online with special data packs starting as low as Re 1. This is really powerful. We are very clear that to get a billion people online, we need to make the whole process of coming online a lot simpler, less intimidating as well as cost-effective and this partnership with Airtel is likely to do that," Kavin Bharti Mittal, Founder and CEO, Hike, said in a press statement.
Airtel's 'Mera Pehla Smartphone' initiative was launched in October 2017. The telecom operator has partnered with several handset manufacturers including Karbonn, Celkon, etc to launch a slew of low-cost 4G mobile phones. Karbonn A41 Indian and A41 Power are priced effectively at Rs 1799 and Rs 1,849 respectively. Celkon Star 4G+ comes at an effective price of Rs 1,249.
Source by:-indianexpress
Share: